Palestinian women celebrate legal win with eye toward greater victories-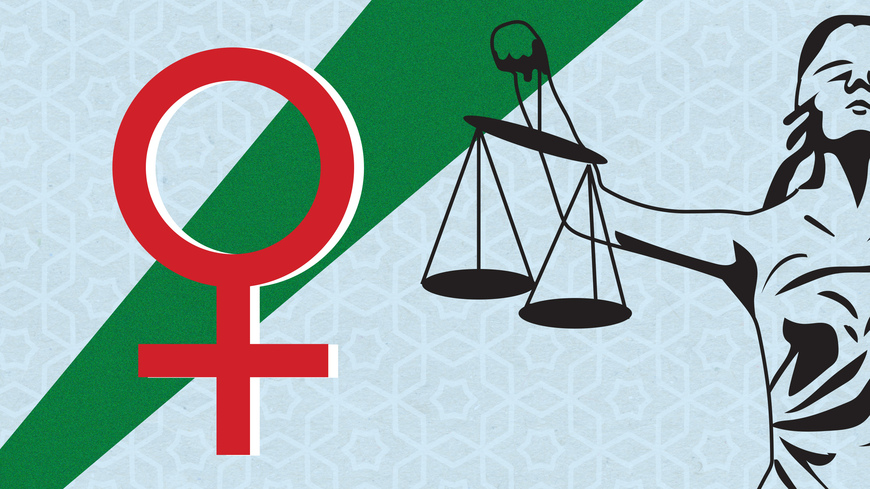 A government declaration ahead of International Woman's Day to amend parts of the penal code which are detrimental to advancing women's rights, alongside changing regulations around child custody and mother's rights, has been warmly welcomed. However, it is felt that the government is still not doing enough to ensure women's independence. Ms. Randa Siniora, general director of WCLAC, told Al-Monitor that while the changes do not go far enough, "we can build on this step. The amendment of Article 99 was important, as many murder cases are considered to be honor crimes, even when they aren't, to give the perpetrator a reduced sentence." Read more.
---
WCLAC organises event "Palestinian Women under Israeli Occupation: the Gendered Impact of Occupation" at United Nations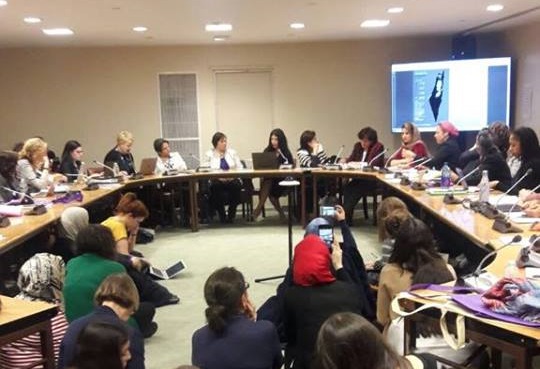 - On 16 March, WCLAC organized a parallel event in cooperation with OXFAM and the Palestinian Permanent Mission to the United Nations. More than 70 people attended the event, and were engaged in the discussion that followed the presentations. The advocacy team leader, Amani Aruri, spoke about WCLAC's work to elevate and support women's voices nationally and internationally, and the situation of Palestinian women under occupation, especially in Jerusalem. This talk addressed violations facing these women, including the restriction on movement, residency revocation, home demolitions, child arrest, and night raids.
---
WCLAC General Director speaks at the event "Palestinian Women under Israeli Occupation" in New York-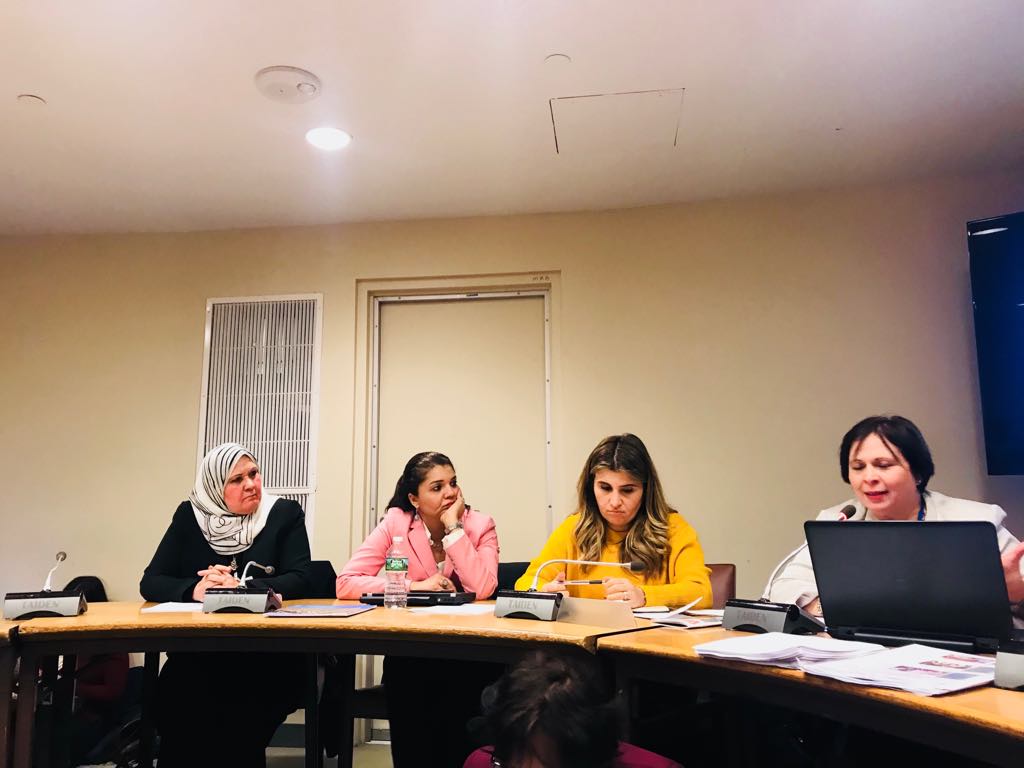 Ms. Randa Siniora participated in the event organized by the Ministry of Women's Affairs on 17 March at the UN building in New York. The event was hosted in a partnership with the United Nations Economic and Social Commission for Western Asia. Ms. Siniora spoke about Palestinian women's participation in water access and management sectors, and shed the light on the effect of the Israeli control over water resources in Palestine.
---
WCLAC and International Partners in Palestine Celebrate Women's Day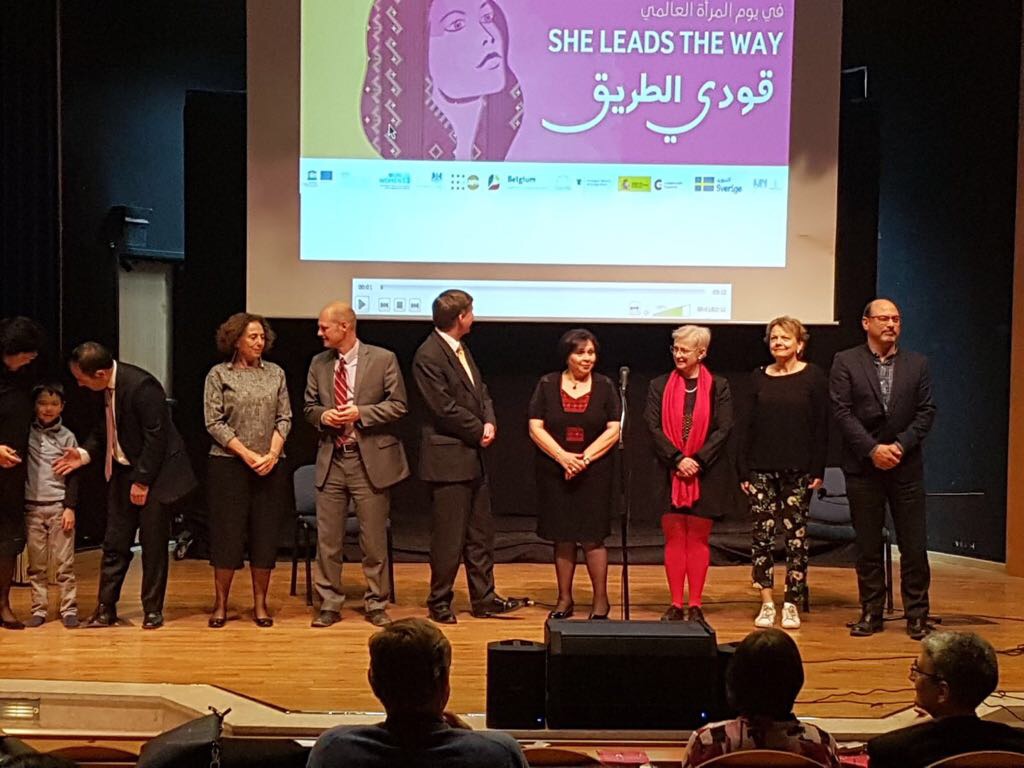 – On 1 March, WCLAC British Consulate General, UN Women and international partners in Palestine launched a joint one-week women's campaign (1-8 March) "She Leads the Way campaign" to celebrate the 2018 International Women's Day (8 March). During this week, a variety of activities were carried out across the West Bank, Gaza Strip and Jerusalem highlighting women's participation in performing arts, technology and civic engagement through art exhibitions, workshops, theatre performances, storytelling and discussion pane. On 8 March, WCLAC and international partners held an evening for the closing ceremony of 'She Leads the Way' campaign, at the Notre Dame Auditorium in Jerusalem at 5:30 pm. The evening combined musical performances, as well as TED-style talks by inspirational Palestinian women sharing their stories and success. She leads the way is a joint campaign between UNESCO, UN Women, UNFPA, Norwegian Representative Office to the PA, Italian Agency for Development Cooperation –Jerusalem Office, Spanish Cooperation, Consulate General of Sweden in Jerusalem, Consulate General of Belgium in Jerusalem, British Consulate General- Jerusalem, and Women's Centre for Legal Aid and Counseling – WCLAC. See Video
---
WCLAC team participate in UN Trust Fund session in New York-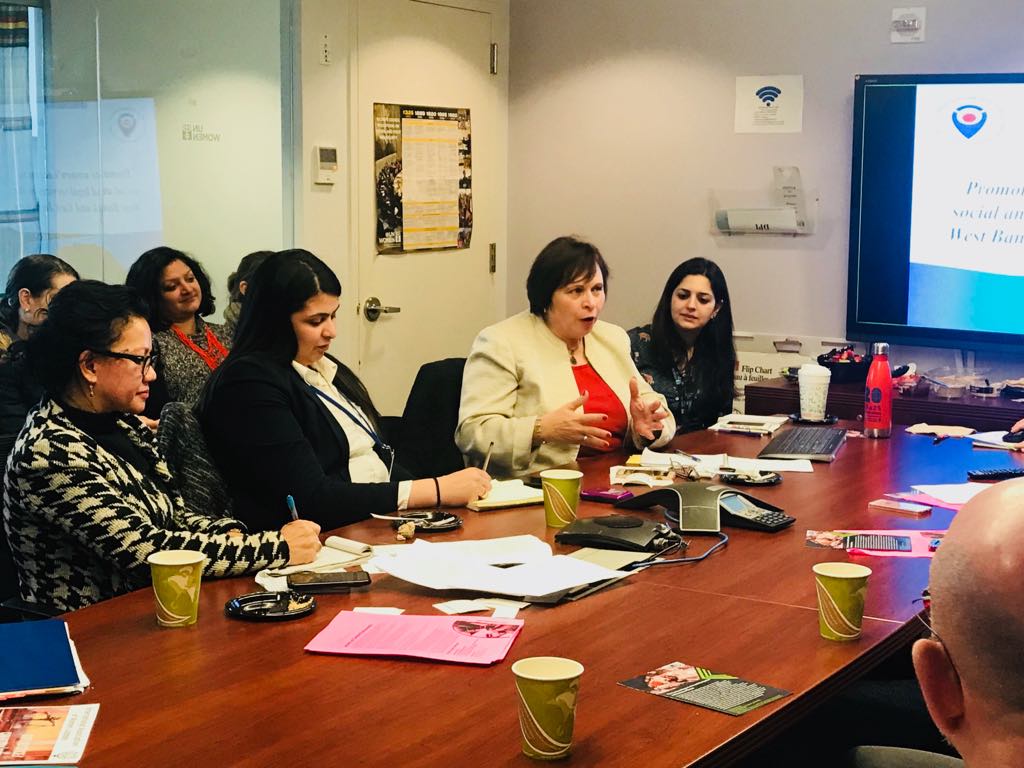 On 14 March, WCLAC's General Director, and advocacy team leader participated in the UN Trust Fund session which focused on the theory and practice related to gender. The session covered the best practices for managing, negotiating, and dealing with transparency when it comes to providing services in humanitarian and development contexts. Ms. Siniora presented WCLAC's work on alleviating violence against women and presented success stories of beneficiaries whose lives were changedfrom WCLAC's programs and services.
---
Randa Siniora, WCLAC General Director, honored by Donor Direct Action-
A reception was organized on 15 March to honor and showcase the work of three women who have successfully participated in ending sexual violence, promoting peace and security through women's political participation, and ensuring legal justice for women and girls. Ms. Siniora's shed light on her work with WCLAC to empower women and stop violence being perpetrated against them.
---
Less than a fifth of Palestinian women participate in the workforce-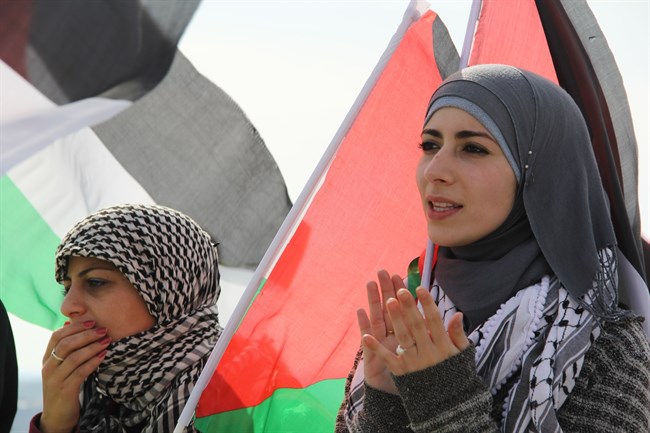 The Palestinian Central Bureau of Statistics has published its annual report on work patterns of Palestinians. The report discovered that less than a fifth of Palestinian women participate in the West Bank and Gaza workforce, while only 19% have part- or full-time jobs, compared to 71.2% of men. According to the World Bank, 59% of women in Israel participate in the labor force, showing the employment disparity between the two demographics. Fadwa al-Labadi says that women receive fewer promotions and do not receive additional child allotments compared to men, and women receive lower salaries than men. Read more.
---
How Palestinian women led successful non-violent resistance-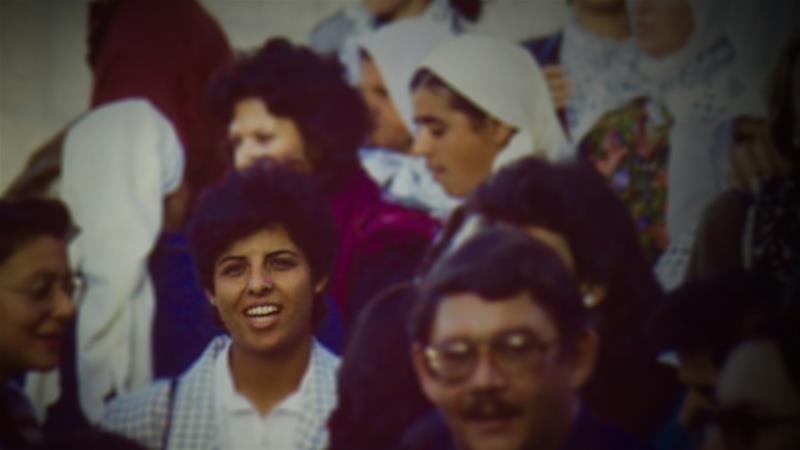 Movements that welcome women into leadership positions are more likely to achieve their goals. This is because their use of non-violent tactics is almost 100 percent more likely to be successful than violent campaigns. These are the findings of a study of 323 major political conflicts from 1900-2006. Two women shared with Al-Jazeera their experiences participating in non-violent resistance during the first and second intifadas. When women began participating, the number doubled, the movement became way bigger. "If everyone participates, it means less criticism and more encouragement from everybody ... When we stand together, it shows what people can do when they work together as a community" says activist Iltizam Morrar. Read more.
---
First women's yoga centre opens doors in Gaza-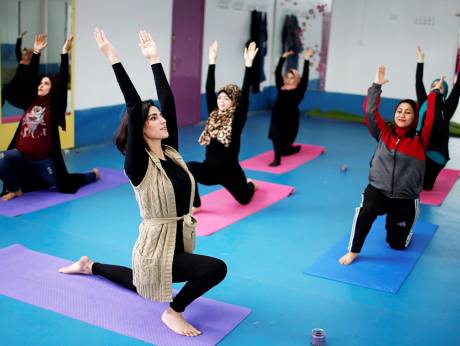 A new centre in Gaza city has opened, teaching yoga to women, alongside yoga teacher training and circus skills. There are few recreational activities for women in the densely-populated enclave of two million people, which is under a blockade imposed by Israel and Egypt and has the highest unemployment rate on earth. "We are trying to use physical activities to help release psychological pressures so that women here can form a support network for one another," Khayal said during one of her classes. Read more.
---
Women journalists in Gaza share the experiences and challenges-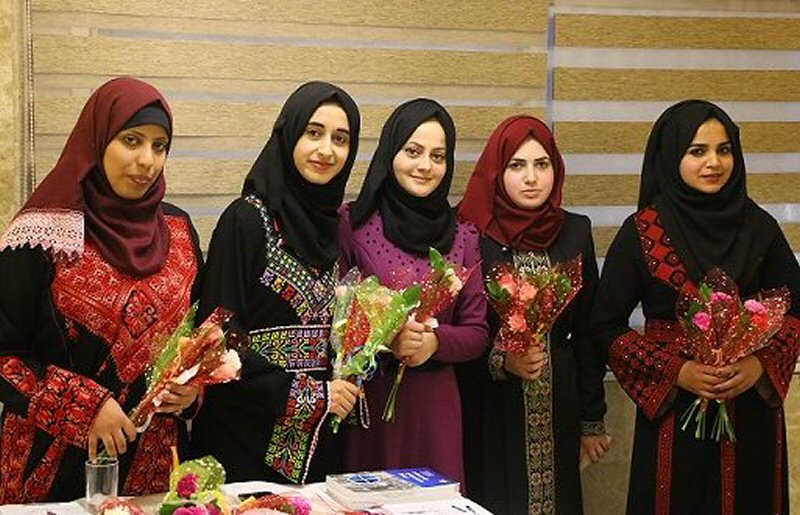 Women journalists in Gaza are stressing the need to ensure the protection of Palestinian women journalists, and to take further measures to seek redress and rehabilitation for survivors of psychological and physical assaults. In addition to this, they are exposing Israeli violations against Palestinian journalists to the international community in order to put pressure on decision makers to reduce the social and legal challenges journalists face. The Palestinian Center for Development and Media Freedoms recently facilitated a meeting in which Dr. Ahmad Hammad stressed the fact that internal violations by opposing Palestinian factions witnessed a worrying escalation due to the continued political division, as both males and females journalists were targeted and violated. Read more.
---
Bidding farewell to the voice of Palestine-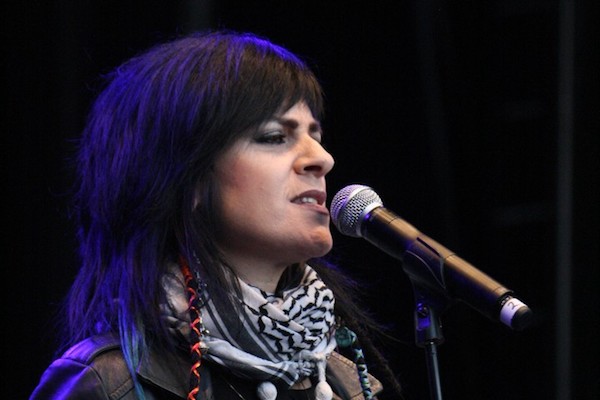 Rim Banna, one of Palestine's most recognizable and important singers, died on 24 March after a lengthy battle with cancer. She leaves behind a dream of freedom from the occupation, patriarchy, and oppression. Banna rose to fame by preforming modern interpretations of traditional Palestinian women's melodies and children's songs. She also put music to the poetry of some of the greatest Palestinian poets. Banna sang of a stolen homeland, the refugee camps, and embodied the spirit of resistance to occupation, acting as an icon and inspiration for many. Read more.
---
Women's voices: Property demolition

- On 14 January 2017, Siham and her family received a demolition notice for a small garage her husband had built in order to learn a living to support the family. Israeli authorities demolished the garage on 11 January 2018 with all of its contents, including a car, still inside. "I felt powerless, oppressed and the victim of an injustice. The place was a place of earning for my family; it was demolished due to an unjust decision ordered by an unjust government, which does not consider our situation or needs as humans." Read more.
---
Women's voices: House arrest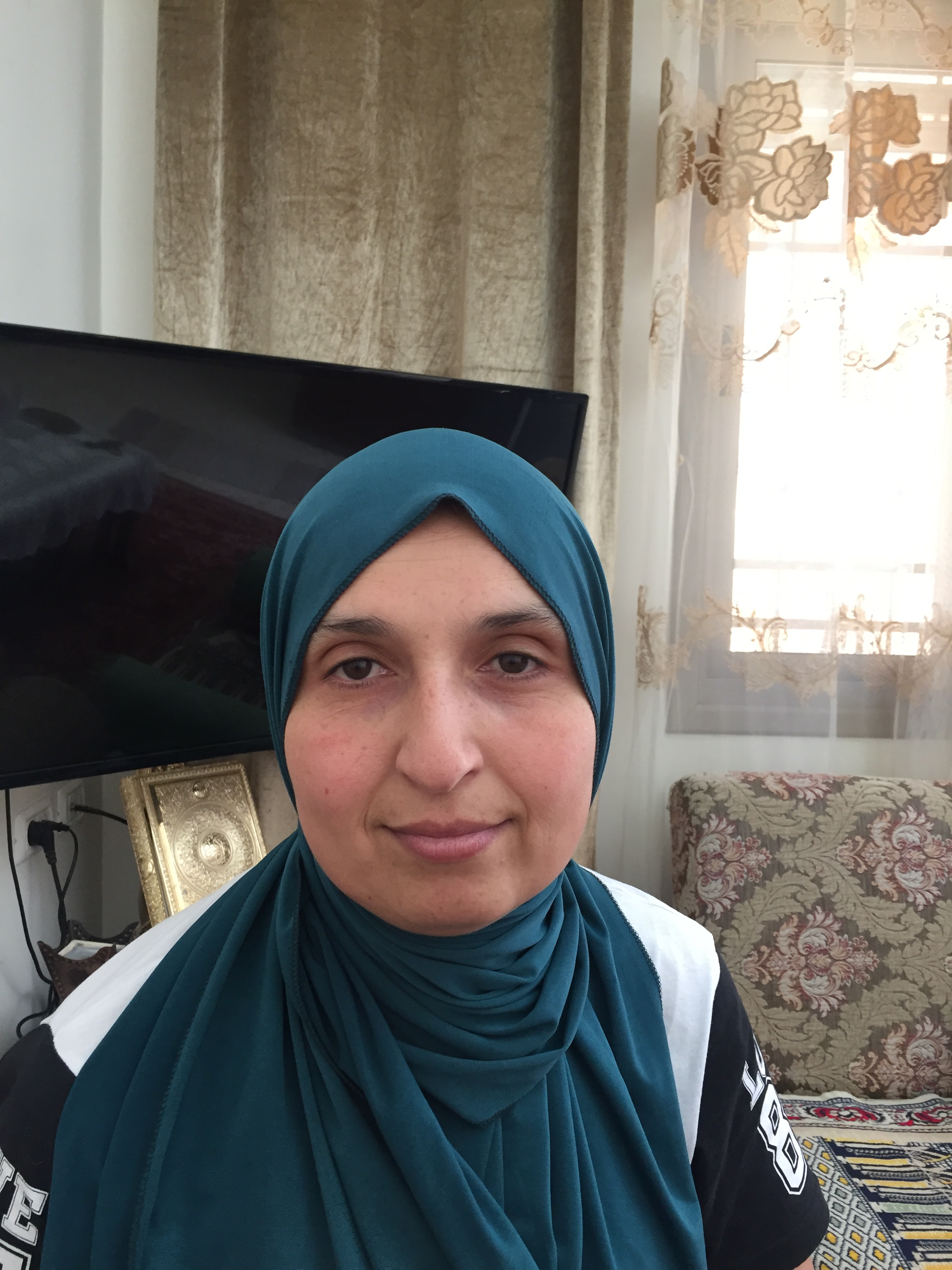 - On 18th October 2017, Alma's son Abdallah was arrested in the middle of the night by Israeli policemen. Abdallah was sentenced to 6 months house arrest, during which time he could not leave his house or go to school. "The hardest situation was when I tried to prevent Abdallah from standing at the front door of our house. He told me: "you want to detain me and make it harder on me". I'm his mother and my duty is to protect him. Read more.