Women's Voices: Anwar T. - Health violation
| | |
| --- | --- |
| Name | Anwar T. |
| Age | 33 |
| Location | Khan Yunis/ Gaza |
| Type of incident | Health/ forbidden to travel |
| Date of incident | 5 December 2017 |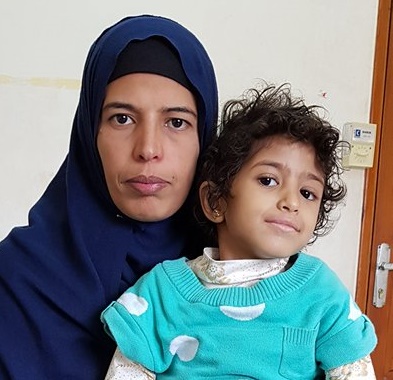 Anwar's five year old daughter has glandular cancer and neuroblastoma. Israel has refused Anwar and her daughter's travel permits so they cannot complete her daughter's treatment in Tel Aviv.
My name is Anwar and I am 33 years old. I am married with five children, one of them is Malak (5 y.o.).
In the beginning of 2015 Malak began to feel fatigued. She was unable to walk and had severe anemia. We took her to Mubarak hospital in Khan Yunis where she was transferred to Al-Rantis hospital in Gaza. The applied for her medical transfer so Malak could have an MRI scan at Tel Hashomer hospital in Tel Aviv.
In September 2015 we obtained Malak's permit and for me to accompany her to Tel Hashomer hospital. She was diagnosed with glandular cancer above her right kidney and swelling in her lymph nodes around the aorta (neuroblastoma). She stayed in hospital for chemotherapy for four months.
The chemotherapy burned Malak's body. My heart would ache for her as I saw her suffering. As she had to remain in hospital for so long she was unable to play or go to kindergarten like other children her age.
Malak completed chemotherapy and had an operation to remove the tumor above her right kidney. She had a bone marrow transplant and started radiation therapy. Until then we never faced any obstacles from the side of the Israelis.
The doctor prescribed her an oral preventative medicine to take every 15 days in Tel Hashomer hospital until January 2018, and inoculation injections to prevent the cancer returning.
At the end of Malak's treatment in August 2017 we applied for a medical permit so that my daughter could finish her treatment. The request was denied as the Israeli's said they are security checking our names. I applied more than 10 times for the permit, but each time we had the same response.
My daughter is extremely exhausted and won't sleep at night. She is continuously crying and her anemia has returned, as well as a rising temperature. She has pain in her knee and every week we must go to Al-Rantis hospital in Gaza for a blood transfusion.
My daughter is getting worse every day and desperately needs to return to Tel Hashomer hospital so that she can be treated without interruption.