WCLAC participates in a training on international humanitarian law and international human rights law for ACT Palestine Forum-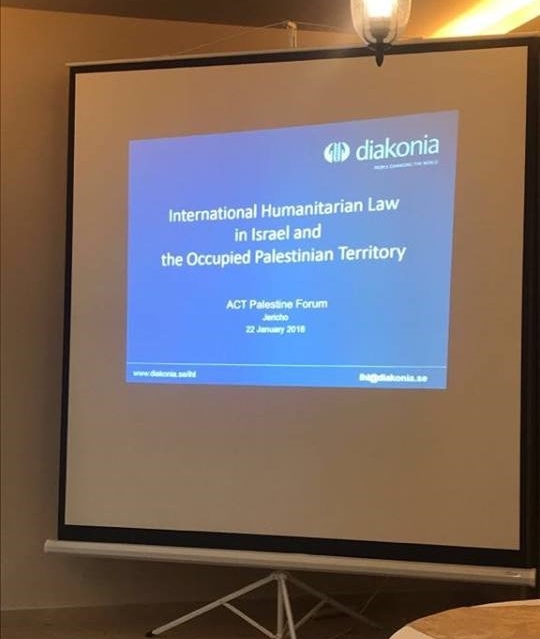 On 22 January 2018, WCLAC's advocacy team leader participated in a training for ACT Palestine Forum members on international humanitarian law, including the law of occupation, and international human rights law. The training was hosted by Diakonia IHL resource center in Jericho and aimed to increase familiarity with the international law framework that assists and facilitates fieldwork, programming, and policy design within the unique context of the oPt. Some of the main protection issues in the oPt were discussed with respect to ongoing IHL violations alongside the practises, policies of the Israeli authorities with regard to access of humanitarian aid, and recent developments related to demolitions/confiscations (including of donor-funded structures) affecting Palestinian communities, analysed against the backdrop of IHL and IHRL.
---
WCLAC participates in a training workshop on partnerships with Oxfam's country management team, staff, and partners-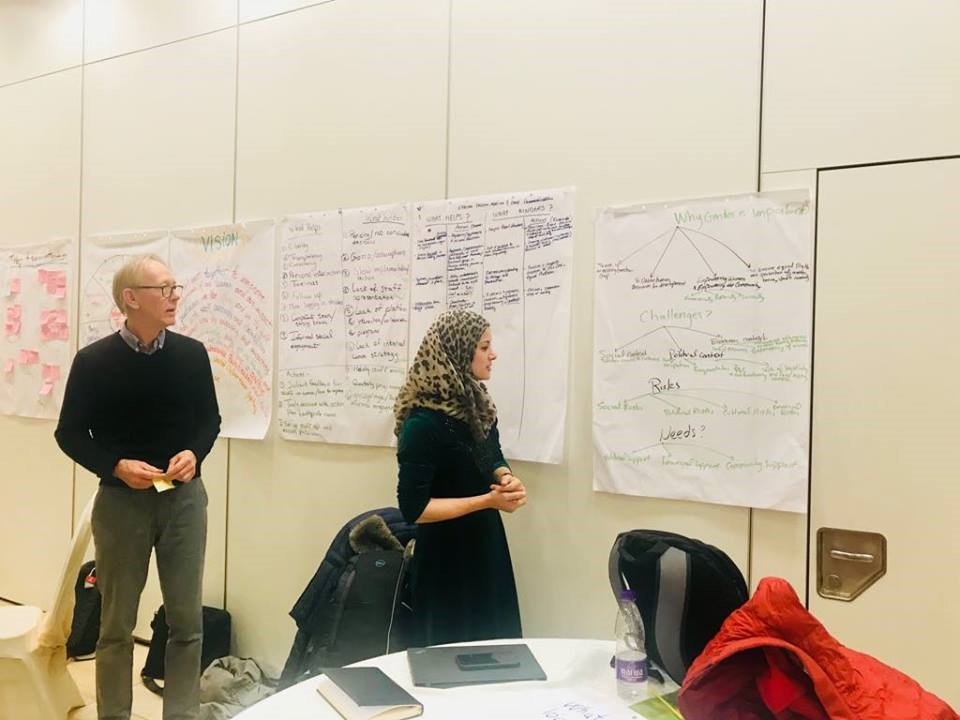 On 24 and 25 January 2018, WCLAC attended a training workshop on partnerships with Oxfam's country management team, staff, and partners. Local partners provided valuable insight on aspects of partnerships, including its benefits, facilitators to build a good partnership, the necessary contribution to build a good partnership, and how these are related to the work being implemented with OXFAM in Palestine. WCLAC's advocacy team leader presented on the importance of working on gender justice, alongside its challenges, needs, and risks that organisations face in their work. Several group activities were preformed to depict partnerships on the ground, presentations were prepared, and experiences were shared between partners and OXFAM's management team and staff.
---
WCLAC participates in a workshop entitled "Reviewing and developing the Strategic Plan of the National Women's Coalition for Security Council Resolution 1325 (2015-2017)"-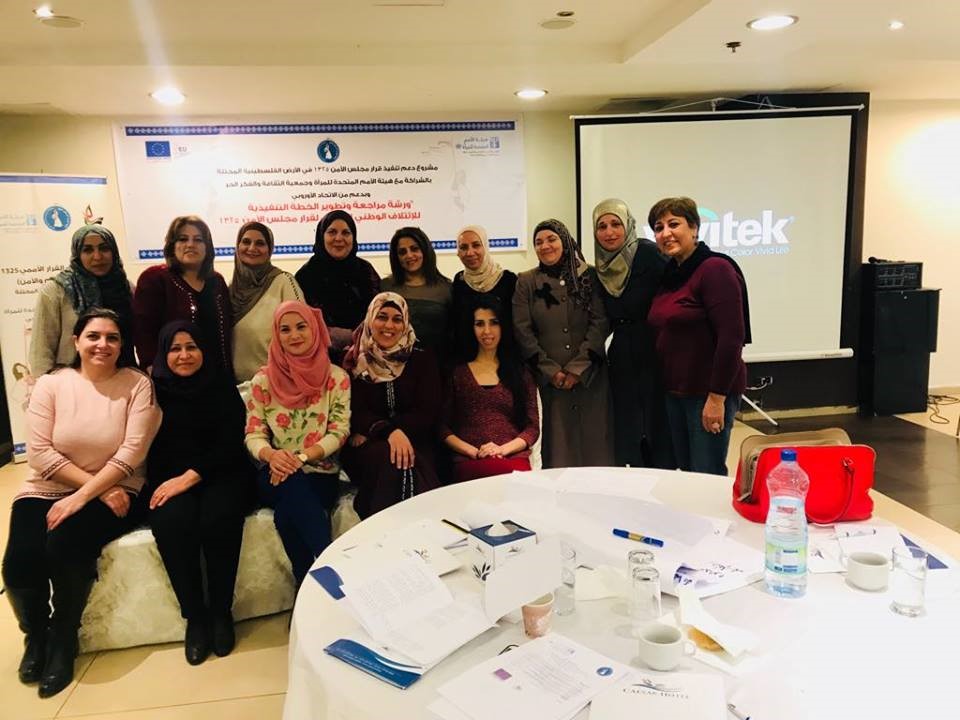 On 16 and 17 January 2018, WCLAC participated in a workshop entitled "Reviewing and developing the Strategic Plan of the National Women's Coalition for Security Council Resolution 1325 (2015-2017)" at Caesar Hotel, Ramallah. The workshop was implemented by the General Union of Palestinian Women in a partnership with UN Women, and funded by the EU. The workshop's objectives were to discuss, evaluate and amend the coalition's strategic plan and present its most important achievements and highlight the obstacles which the coalition faced. It aimed to develop a specialized strategy to implement the 1325 resolution both nationally and internationally, and to form a strategy to combat the Israeli occupation and to confront Trump's declaration on Jerusalem. The session focussed on: increased participation of women at all levels of decision-making; in mechanisms for the prevention, management and resolution of conflict; peace negotiations; the constraints facing the implementation of the plan; alternative mechanisms to achieve its objectives; the proposed coordination mechanisms; and the identification of responsibilities and tasks among the institutions of the coalition.
---
WCLAC concludes fifteen days training for women leaders from community on UNSCR 1325, documentation of Israeli violations, advocacy, influencing and campaigning, and the use of media-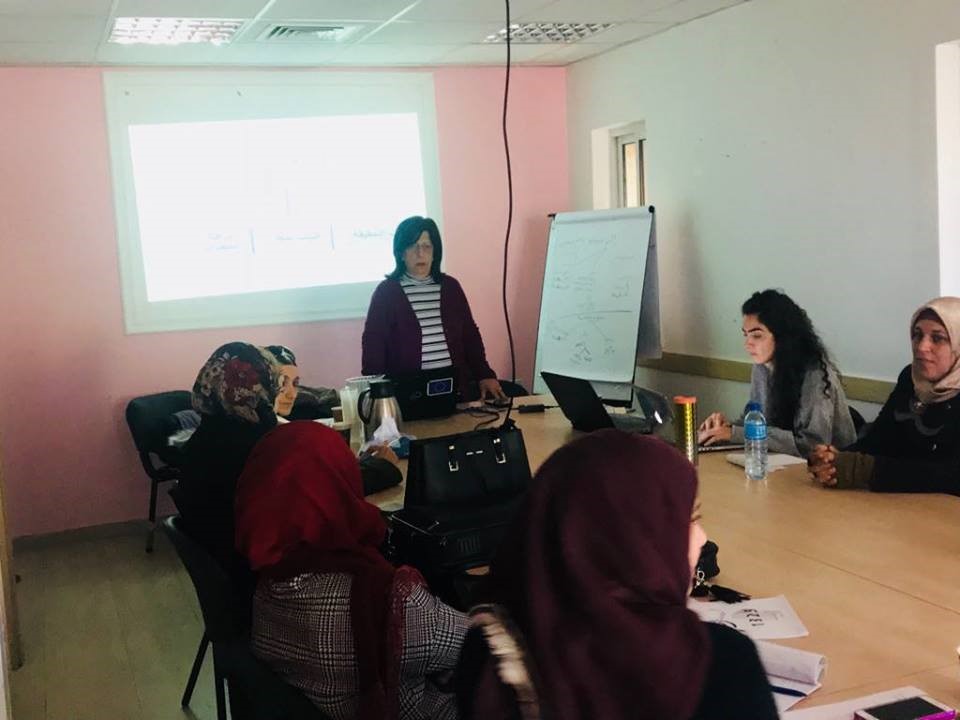 Between 27 December and 21 January 2018, WCLAC facilitated fifteen days of training workshops, funded by OXFAM, for women activists from the community. This aimed to support the active participation and role of Palestinian women in decision making at all levels of society, especially in advancing a gender sensitive peace and security agenda. WCLAC advocated for a National Plan on 1325 by designing an advocacy campaign, teaching methods of influencing policy and decision-making, and the use of different media outlets. Nina Attallah delivered trainings on the documentation of Israeli violations to IHL. Amani Aruri delivered trainings on the UNSCR 1325 and its application in Palestine, international treaties, UN mechanisms, and Universal Periodic Review (UPR). Adv. Rawan Obaid delivered training on Advocacy, Campaigning and Influencing. Yara Yaish delivered training on the use social media in campaigning and advocacy. Nabil Dweikat, provided training on the image of Palestinian women in media, and shed the light on the stereotype and discrimination against women.
---
WCLAC signs MOU with a new grassroots partner, Nahdit Bent Al-Reef Charitable Society-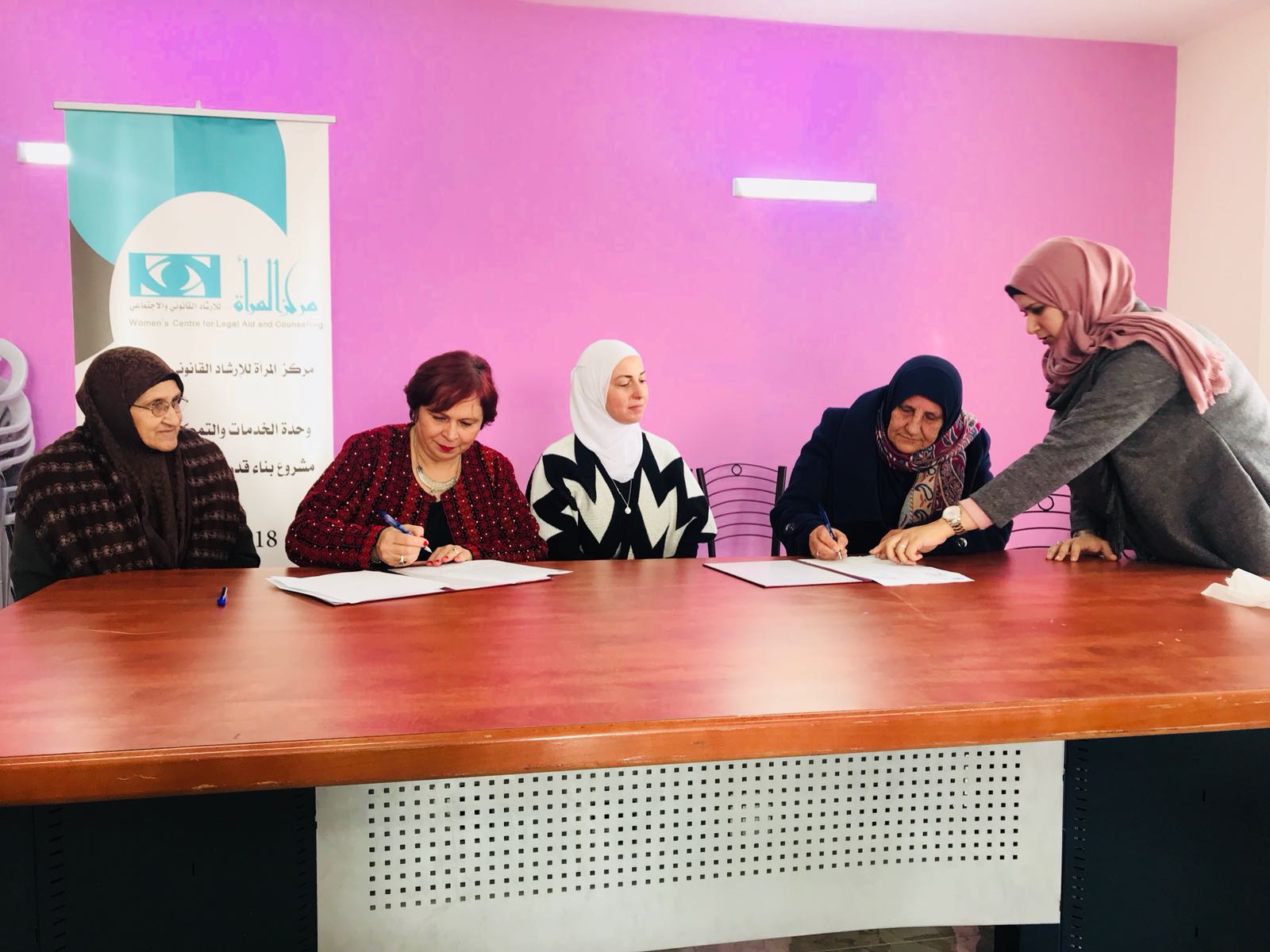 Building on its previous experience, WCLAC aims to support CBOs to provide social and legal counselling in addition to awareness-raising in their constituencies. WCLAC worked on extending its outreach through building a new partnership with Nahdit Bent Al-Reef Charitable Society in Dura southern Hebron in order to provide women in South Hebron area with social and legal aid. In January, WCLAC signed the new MOU with Bent Al-Reef covering a period of 2 years, under the "Building Capacities' of CBOs" project funded by Drosos Foundation. With the creation of a new partnership in Hebron, WCLAC now has partnerships that cover the North, Center and the South of Palestine, which will enable women in remote areas to access the different services and seek help when needed.
---
Top Arab woman entrepreneurs making waves-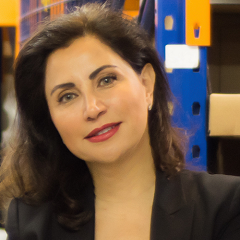 Forbes Middle East has released their list of the top woman entrepreneurs in the Arab World who have succeeded in founding businesses and leading start-ups. Palestinian women dominate the list, filling 30.8% of the top spots, followed by Jordanian, Egyptian, and Lebanese women. The number one position was Joy Ajlouny from Palestine, who founded the GPS shipping service and gained $52 million in funding. Most start-ups are in the service sectors, including shipping, shopping, and social media development. Read more.
---
Palestinian artist draws vivid picture of women's suffering-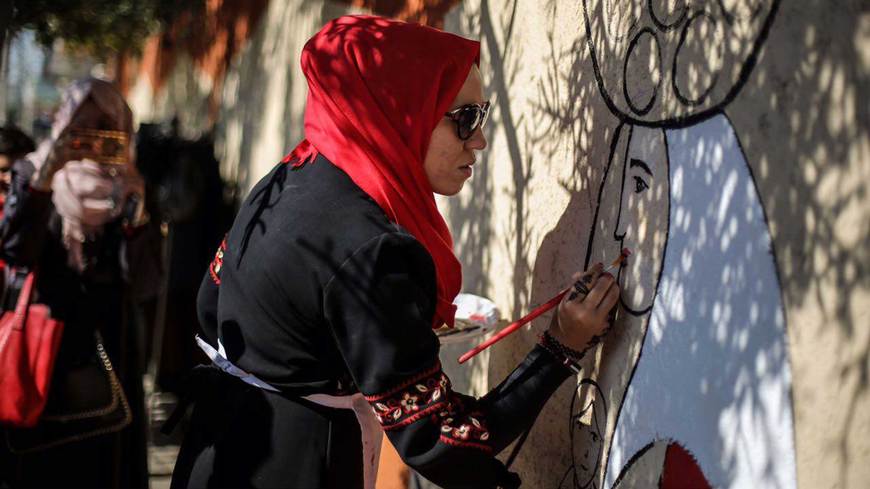 An exhibition last December by Gazan artist Hanaa Hamash focusses on the strength of Palestinian women under occupation. The exhibition portrays women in different eras displaying themes from lifestyle in pre-1948, to the struggle under Israeli occupation, alongside portraits of influential Palestinian women in history. In most of her paintings, Hamash intentionally used dark, earth colors, with blacks and tones of grey, to convey a message about the bleak and harsh life of Palestinian women. Hamash says that art gives women an opportunity to be heard within a marginalised society. Read more.
---
Ahed and Nariman Tamimi remain in custody as military prosecution requested-

On 17 January 2017 a military judge approved the prosecution's request to remand Ahed and Nariman Tamimi in custody. This comes after Ahed was taken into custody from her home in Nabi Saleh in the middle of the night on 19 December. Her mother Nariman was arrested later that same day. This judgement means the mother and daughter must remain in custody until all legal procedings are complete, despite supposedly being innocent until proven guilty. Israel is implement slapdash indictments and prolonged detention against Ahed and Nariman and the fact that these measures are being used against a minor magnifies the violation of human rights that is already par of the course in Israel's treatment of hundreds of Palestinian minors. Read more.
---
Hollywood film features Palestinian refugee craftswoman's creations-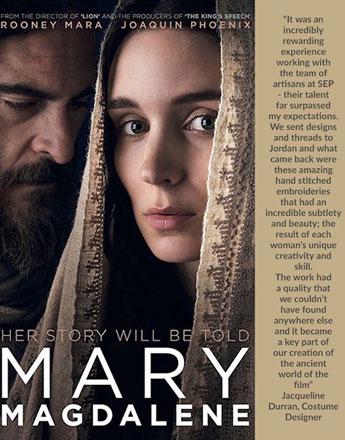 The creations of 27 Palestinian craftswomen from Jerash camp will be featured in the Universal Pictures' film "Mary Magdalene". The craftswomen are members of SEP Jordan, an organisation empowering Palestinian refugee women through the creation of hand-embroidered accessories. "SEP has not only created a source of income for us; it has also allowed us to develop our hobbies. It has helped us to bring out all the creativity we have within us. I am proud to be sharing our embroidery, our heritage and our tradition. Through our Palestinian heritage, we show the world what a strong and resilient people we are," said Asma Nmeilat, finishing officer at SEP. Read more.
---
Digital rights for Palestinians deteriorating at a concerning rate-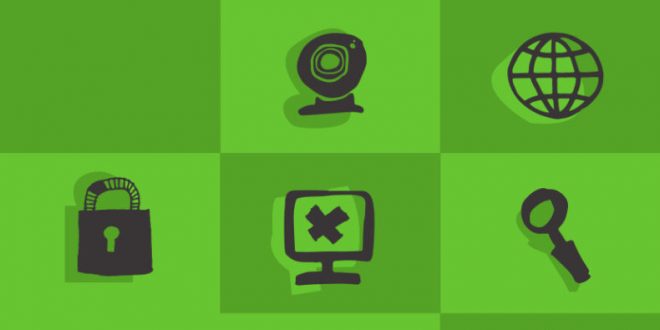 A recent report has revealed the state of digital rights for Palestinians in the virtual sphere. It outlines the recent violations made against Palestinian activists on social media and the restrictions on their freedom of speech online under Israeli occupation. The call for civil society organisations to advocate in support of Palestinian digital rights is now urgent. The report also states how digital rights affect women differently to men, women are more susceptible to censorship due to conservatism and social oppression, as well as GBV in the virtual sphere. Recently, workshops have been held to teach girls how to combat GBV online. Read more.
---
Gaza exhibition an opportunity for women to express their feelings-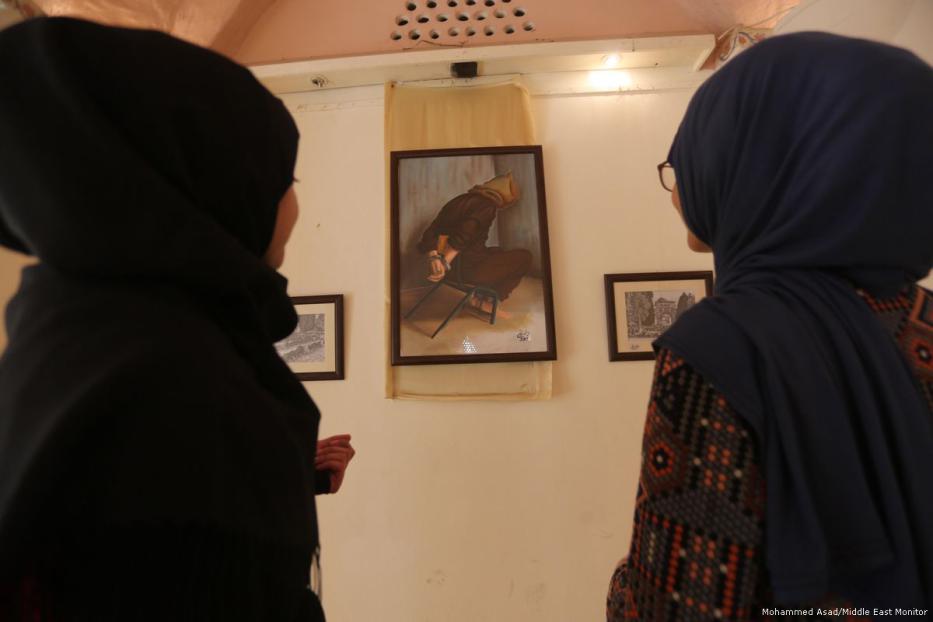 The Gaza Arts and Crafts Village has opened an exhibition titled ''Pink Fingers'' displaying the work of various female artists, sponsored by the Culture Ministry and the Gaza Municipality. The artwork addressed cultural, political and social topics such as Jerusalem, prisoners, the Intifada, and Palestine's landscape. The exhibition was a result of an art training course attended by fifty women in Gaza. Read more.

---
Women's Voices: Housing demolition-

Enas J. was surprised to find Israeli police at her door on the morning of 14 September 2017. They took measurements of her building and then told her that it is to be demolished. Enas is living with the insecurity of not knowing when they will come to take her house from her and her children. "The police told us that our building is not licensed and so it is illegal, but Israel refuses to issue licenses to buildings in this neighborhood. I often cry over this injustice that is happening to us. I do not want to be separated from my children but this might happen." Read more.
---