Women's Voices: Raghad H. - Property destruction
| | |
| --- | --- |
| Name: | Raghda H. |
| Age: | 32 |
| Location: | Silwan, East Jerusalem |
| Nature of incident: | Property destruction |
| Date of incident: | 29 March 2017 |
On 29 March 2017, about 100 Israeli soldiers surround the house of 32-year-old mother of 6 children aged 8 to 14 from Silwan and demolish her house without prior notice.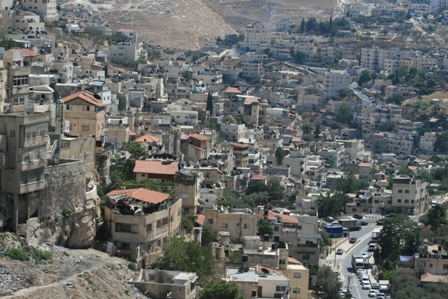 Raghad is a 32-year-old mother from the neighbourhood of Silwan in East Jerusalem.
"Since 2014 we started to receive home demolition warrants from the Israeli authorities. We hired a lawyer, and paid over 10000USD in fees but the lawyer could not revoke the demolition order."
"On 15 March 2017, our lawyer told us that the authorities sent us another demolition order which was written in Hebrew. The reason for the demolition warrant was lack of a building permit. We never applied for a building permit because we were certain that the authorities would deny our application, just as they do with so many other Jerusalemites.
"On 29 March 2017, at around 4:30a.m., I woke up to the sound of loud banging at the front door. I followed my husband who went to answer and we were both shocked to see about 100 soldiers in full military gear surrounding our house. We also saw four military jeeps and a bulldozer. The commander told my husband to ask everyone to get out because they had come to demolish it."

"We were not given any prior notice. We were shocked yet we had to follow orders. I went inside the house to wake up my children while my husband remained at the door talking to the commander."

"My husband and I and our children stood outside by the main street; it was very painful for me to watch the house that I've been living in since 2004 being destroyed in front of my eyes. My children were by my side crying, terrified."

"The commander didn't give us a demolition order or tell us why they were going to demolish the house; they just proceeded. I couldn't hold my tears back."

"The commander didn't allow me or my husband to bring out any of our clothes or other possessions. Around 20 soldiers entered the house; they brought out very few clothes and two pieces of furniture, most of our possessions remained inside the house, then they started to demolition it."

"During the demolition process many of our neighbors gathered, we were all watching the house turning into a pile of rubble. At one point my son Mohammed (10y) ran towards the house yelling and crying, but one of the soldiers prevented him and held him off with his hand away from the house."
"By 6:30 am, the house was gone and my family and I became homeless. My children cry all the time missing home; I also feel unsafe and unstable since we moved into my husband's family's house. I have no privacy and no personal space."