Women's Voices: Manar Q. - Child arrest/Jerusalem women
| | |
| --- | --- |
| Name: | Manar Q. |
| Age: | 33 |
| Location: | Silwan, East Jerusalem |
| Nature of incident: | Arrest/soldier violence |
| Date of incident: | 1 December 2016 |
On 1 December 2016, mother of a 13 year old boy finds out that her son was detained by Israeli police as he walked home from school. He was later accused of throwing stones and was put under house arrest for 5 days.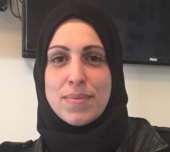 Manar is a 33 year old mother of 4 children aged 7 – 17 from the neighbourhood of Silwan in East Jerusalem.
"On 1 December 2016, at around12:30 p.m., I was home waiting for my son Mahdi (13) to come back home from school at the usual time. I started to worry when Mahdi didn't show up. At around 2:20 p.m., I went out to the neighborhood and asked his schoolmates who told me Mahdi had left school on time."
"I informed my husband then called Mahdi's teacher, the teacher told me that the Israeli police arrested a group of children in the area around two hours ago. I became extremely worried and afraid; I called my husband and at around 5:00 p.m. we both met in front of the police station, which is located in Salah Eddin Street in East Jerusalem."
"I was shocked to see other parents gathered in front of the police station, some had been waiting since 2:00 p.m.; they too suspected that their children had been arrested. The police won't communicate with us and kept us outside the police station."
"The parents appointed a lawyer and he was able to enter the police station and then informed the parents with the names of the children in detention; Mahdi's name was on the list."
"At around 6:30 p.m., my husband and I were shocked when the lawyer told us the children were going to be held for 3 days for questioning and advised us to go home."
"We all refused to leave although the weather was extremely cold. At around 9:30 p.m. the lawyer came out again and asked all of us, the parents, to go inside the police station; we were told that the children were accused of throwing stones at a police car, then we had to sign a document committing us to keeping our children under house arrest for 5 days or else pay 5000 Shekels fine."
"Shortly afterwards Mahdi came out of the police station shivering and exhausted; he didn't say a word all the way home. Later on he told me that a policewoman was aggressive and forceful as she arrested him. She forced him face down to the ground while yelling at him. She tied his hands to the back with plastic ties causing pain to Mahdi."
"Mahdi explained further that during interrogation he had two interrogators who accused him of throwing stones at the police car and wanted names of other boys involved in the incident; Mahdi denied this accusation and had no names to give, he clarified that he was going back home from school."
"The interrogators disregarded Mahdi's statements and kept treating Mahdi badly; they kept him in his undershirt in a cold room then ask him whether he was feeling cold. The interrogators threw out the content of Mahdi's school bag then made him put the objects back inside the bag."
"I took days off work to pay close attention to Mahdi during his five days house arrest. By monitoring his changed behavior I got extremely worried about him; especially that the police was roaming around the house constantly during this period, and Mahdi was so terrified that he wouldn't even look outside the window."
"During the detention period Mahdi slept during the day and watched television at night. He had no appetite for food. It was painful for me to see my son suffering so much; I hardly ever see Mahdi smile anymore."
"Back in August Mahdi was arrested by the police as he was stopped by the police in the street while he was on his way to the grocery store. At that time my sister, who is my neighbor, called me and told me to bring my ID and come out to rescue Mahdi."
"When I arrived to the scene I saw five police officers; one was holding Mahdi and my sister was trying to prevent the police from arresting him. The police accused Mahdi of throwing stones, and he was yelling and insulting us using rude words."
"I insisted to go with Mahdi to the police station because he was still underage; the police made me sit in the back seat of the car and had Mahdi sit on my lap. The police station is only five minutes away from where I live but the police car was roaming around the city for about half an hour. And the police was trying to provoke me and Mahdi by swearing at Palestinians as the police car passed them on the street."
"My son hadn't done anything wrong. His arrest is unjustified and is designed to frighten and intimidate him."