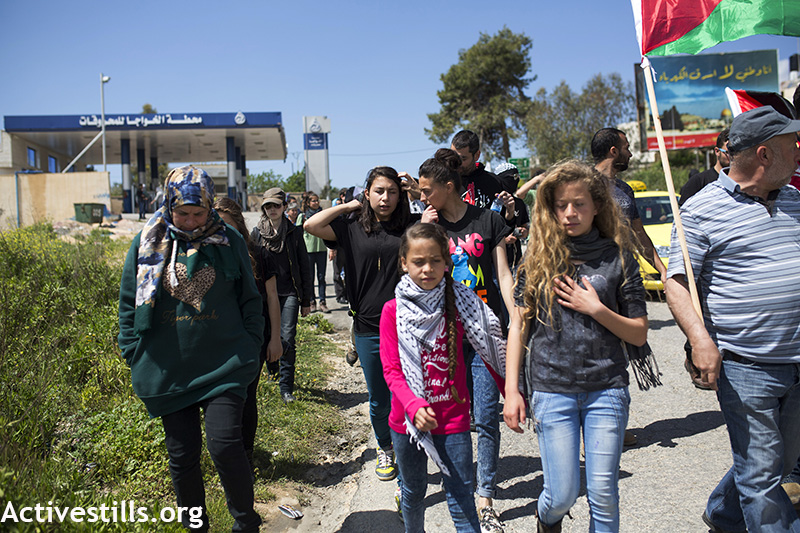 [24 March 2016] – Today, WCLAC submitted a further complaint to four UN Special Procedures mechanisms on behalf of a local activist and human rights defender, Mrs. Manal Tamimi. This is the third complaint filed on behalf of Mrs. Tamimi in the past year following her unprovoked shooting during a demonstration in 2015 and her hospitalization in early 2016 following a tear gas attack on her home.
The most recent complaint relates to an incident that occurred on 8 March 2016 in which a large number of Israeli soldiers raided Mrs. Tamimi's home at 1:30 a.m. She was physically assaulted during the raid and then detained without initially being given reasons. After being painfully tied, shackled and blindfolded, she was taken to a deserted area near her village where she heard the sound of weapons being cocked ready for firing. She was later interrogated and accused of assaulting an Israeli intelligence officer in Ramallah five months earlier.
Following her interrogation, Mrs. Tamimi was unlawfully transferred and detained in Hasharon prison inside Israel in violation of
Article 76
of the Fourth Geneva Convention that prohibits the transfer of protected persons from occupied territory. After three days in detention a video was produced at Ofer military court proving that Mrs. Tamimi was not in Ramallah on the day of the alleged assault and she was released on a bond of NIS 4,000.
The complaint has been submitted to the UN Special Rapporteurs for
Human Rights Defenders
;
Violence against Women
;
Freedom of Peaceful Assembly
; and the Working Group on
Arbitrary Detention
. The complaint requests,
inter alia
, an independent investigation; confirmation that Palestinians in the West Bank have a fundamental right to peaceful assembly; assurances of future protection; and confirmation that Mrs. Tamimi's transfer and detention inside Israel was unlawful.
Links
Third UN complaint (March 2016)