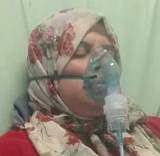 [4 February 2016] – Today, WCLAC submitted a complaint to three UN Special Rapporteurs on behalf of a local activist and human rights defender, Mrs. Manal Tamimi. This is the second complaint filed on behalf of Mrs. Tamimi in the past year following her unprovoked shooting during a demonstration in 2015.
The most recent complaint relates to an incident that occurred on 15 January 2016 in which Israeli soldiers fired multiple tear gas canisters in and around her home without any apparent justification resulting in her hospitalisation. The evidence suggests that Mrs. Tamimi and her family are being targeted by the Israeli military due to their participation in weekly demonstrations against a nearby settlement established in violation of international law.
In support of the complaint WCLAC has submitted four testimonies and three videos of the incident. This latest violation is one in a long line of incidents stretching back to when the demonstrations first commenced in late 2009. During the intervening years Mrs. Tamimi and her family have been subjected to shootings, assaults, imprisonment, night raids, threats and intimidation.
The complaint has been submitted to the UN Special Rapporteurs for Human Rights Defenders; Violence against Women; and the Rights to Freedom of Peaceful Assembly and of Association and requests, inter alia, an independent investigation; confirmation that Palestinians in the West Bank have a fundamental right to peaceful assembly; and assurances of future protection.
Links